Caet Wine Bar Delivers Good Taste with Old House Depot Touches
​Caet, a sister establishment of Derek and Jennifer Emerson's popular restaurants Walker's Drive-In and Local 463, has provided the metro area with a meeting place that delivers innovative food, fine wine, and a top-notch dining experience.
Located in the heart of Jackson's historic Fondren District, the interior provides an impressive backdrop for diners. Jennifer knew exactly the look and feel she wanted as she designed and decorated Caet. Old House Depot provided materials that would contribute to the cozy, intimate, and upscale feel of the space.
Behind the aesthetics, every piece has a story.
Architectural Salvage from Old House Depot at Caet
Tying into the sense of community we love so much at Caet, our wood primarily comes from deconstructed buildings that are usually located within 150 miles of Jackson. Most of this wood was cut around 100 years ago from 300 to 600 year old trees. We at Old House Depot thrive on giving wood with storied pasts a new life and purpose.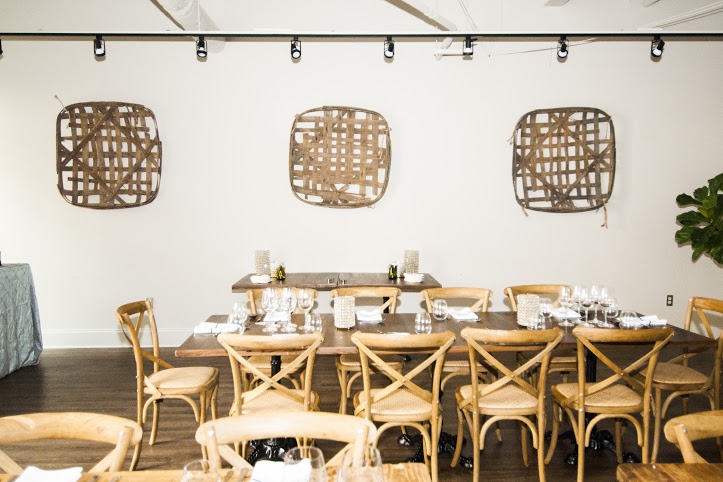 The private dining room and event space is adjacent to Caet's main dining area and bar. The baskets on the wall are tobacco baskets that originated in North Carolina. These unique and historical Old House pieces add another layer of dimension to the already rich, welcoming space.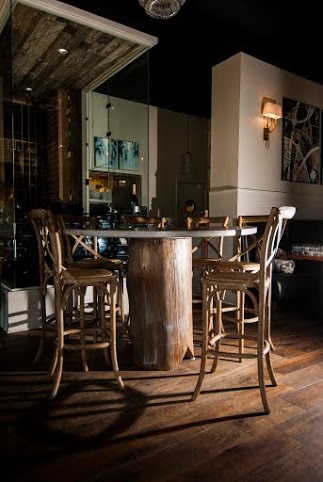 An extra large table calls for extra good company. This table, located in the main dining area, is made from Old House materials. The base is a cypress trunk that was originally one of two supports that held up an old house in the Delta. These two pieces sat as pillars on the ground and had a 20' pole extending between them, providing a firm foundation for the home.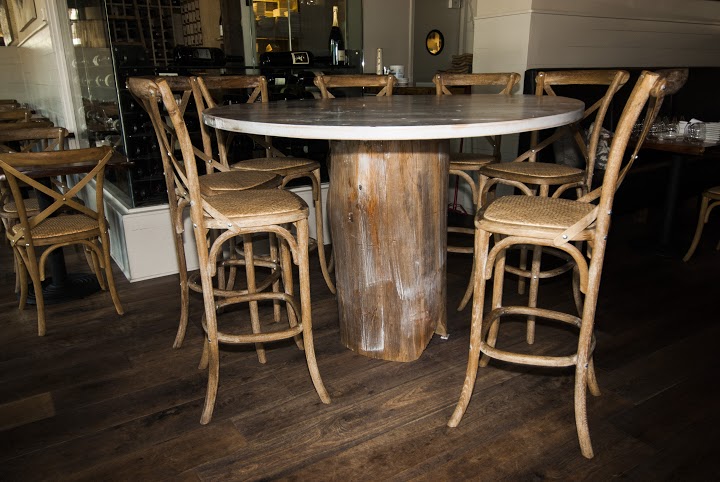 Taking it down south a bit, the substantial tabletop is made from heart pine floor joists that came from an old house in South Mississippi.
These Mississippi originals came together to form a wonderful place to enjoy a glass of wine!
Masters of Recycled Art: Anne Campbell
​If you stopped by Old House Depot during December, you have probably seen our beautiful Christmas tree — made from stacked Coca-Cola crates! As cool as that was, we thought the topper was even better (and it's even getting a new life as a festive Mardi Gras piece!).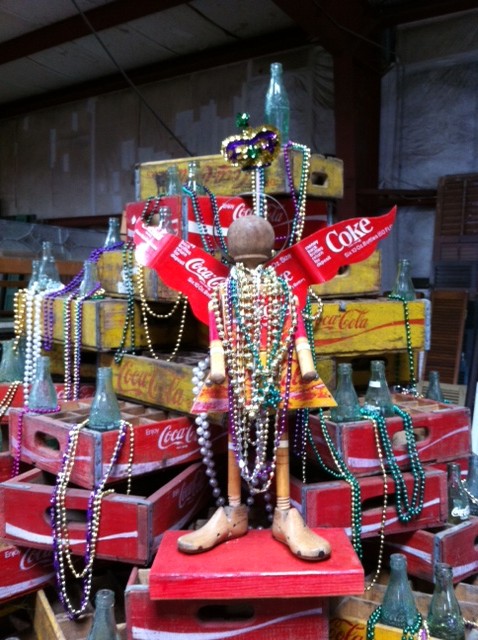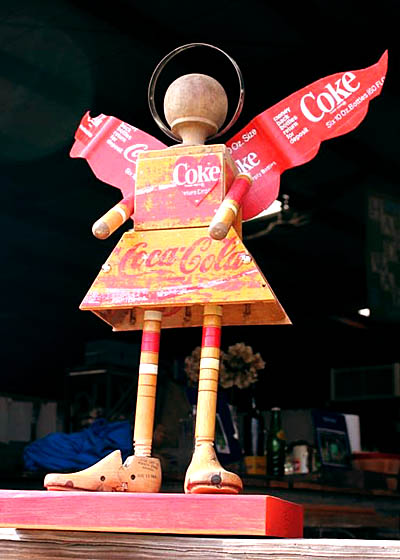 Our angel was custom-made from vintage soda crates by Anne Campbell of the Craftsman's Guild of Mississippi. If you don't know about Anne and her work yet, you're missing out.
Anne Campbell has been making art since 1998. Inspired by Alexander Calder, she started with wire sculptures before finding further inspiration in her father's folk art furniture (also made from found materials), which led to her passion for found object sculptures. A graduate of the University of Mississippi with a Bachelor's Degree in Fine Art, Anne currently resides in Brandon, Mississippi and works out of Bottletree Studios in Jackson.
She was first introduced to found object sculpture in a project in an undergraduate class at Ole Miss — and it was horrible (her words!). Years later, however, Anne found herself drawn to it. She sold antiques for a while and ended up buying a croquet set and found sudden inspiration.
"I can make a dog!"
She went on to make hundreds of croquet dogs, all with their own story. Even if the design is the same, each sculpture is unique and made from different objects.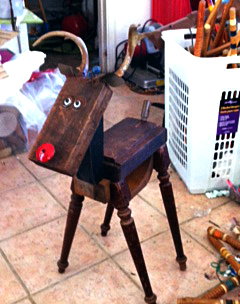 Anne says she hates to see things thrown away when they can be given new purpose. She believes that her materials "tell her what they want to be," and often buys things without knowing what she's going to make. She often finds inspiration in animals and in common, everyday objects. To Anne, the most moving part of taking "junk" to art is the evolution, which she called a "magical transformation" as the sculpture takes shape.
Anne has a great relationship with Old House Depot, coming not only to buy materials but to be inspired. One of our favorite things is to see what customers do with the things they buy, whether it's something functional for their home or business or a beautiful work of art like Anne's.
You can find Anne Campbell's work in-state at the Mississippi Craft Center (Ridgeland, MS and Biloxi, MS), Thou Art Gallery and Gifts (Pass Christian, MS) and the Attic Gallery (Vicksburg, MS). Outside of the Magnolia State, Anne has work in Anthm in Black Mountain, NC; Material Things Artisan Market in Woodstock, IL; Greeneyed Gator in New Orleans and Wild Oats and Billie Goats in Decatur, GA
Anne shows annually on the first week of December at the Chimneyville Festival along with her fellow members of the Craftsmen's Guild. She teaches at the Mississippi Craft Center's Craft Camp during the summer and is open to commissions.
You can find more of Anne's work on Bottletree Studios' Facebook page.
Iron Horse Grill Reopens in Jackson With an Old House Depot Flair
​Jacksonians were heartbroken in 1999 when the Iron Horse Grill, a Jackson landmark, was abandoned after a devastating fire. The building in the heart of downtown Jackson stood empty for more than 10 years. Rumors cropped up now and then, either that it was making a come back, or even that the building was slated for demolition. Thankfully, there's good news. After years of planning and hard work, this Jackson staple is getting a second lease on life.
Iron Horse Grill is back in action, here to help revitalize downtown Jackson - not only as a top notch eatery, but also as a live music venue.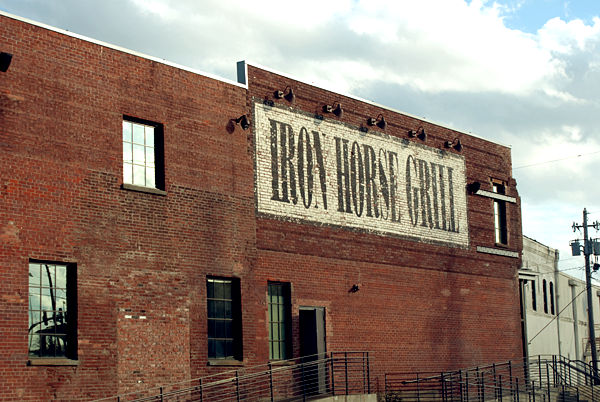 The aesthetic of the new Iron Horse Grill, which celebrated its grand opening on November 25th, is full of rustic charm and alive with atmosphere. Restaurant designs aren't easy, but they pulled off something great here. It's cozy, unique, and full of personality.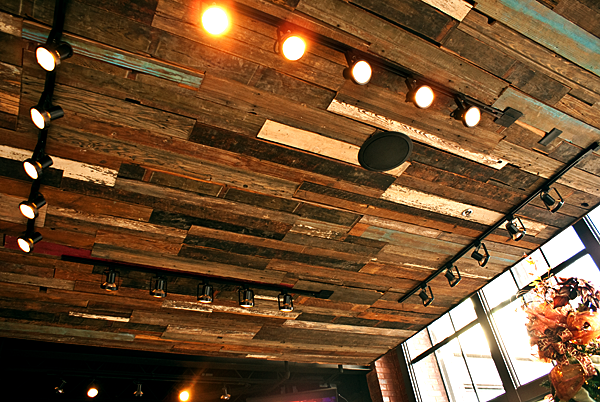 How cool is that ceiling? Iron Horse is full of exposed brick walls and rustic wood installations just like this one. It calls back to the original Iron Horse, which had been converted from an Armour Smokehouse built in 1906.
Old House Depot is happy to have played a special part in making the atmosphere of Iron Horse Grill come to life. We love having a part in building commercial interiors and seeing how different elements come together to create something totally unique. Check out these cool pieces from Old House Depot that have found a new home at Iron Horse Grill!
Old House Depot at Iron Horse Grill: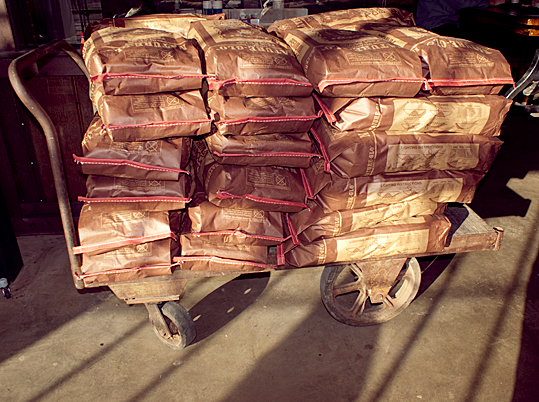 Just at the entrance is this charming cart from Old House! It makes for a great decorative piece, don't you think?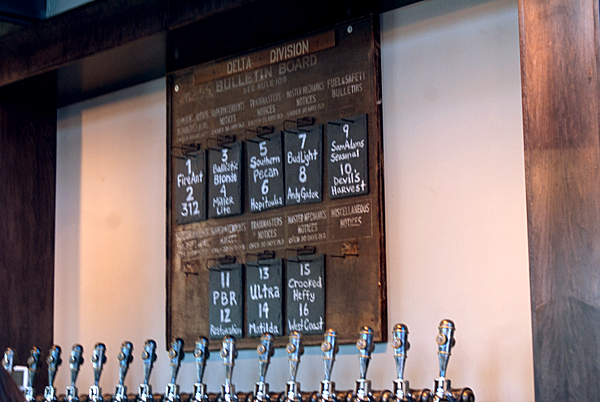 The board behind the bar came from Old House Depot. It was originally an Illinois Central Railroad bulletin board and is a great addition to the restaurant.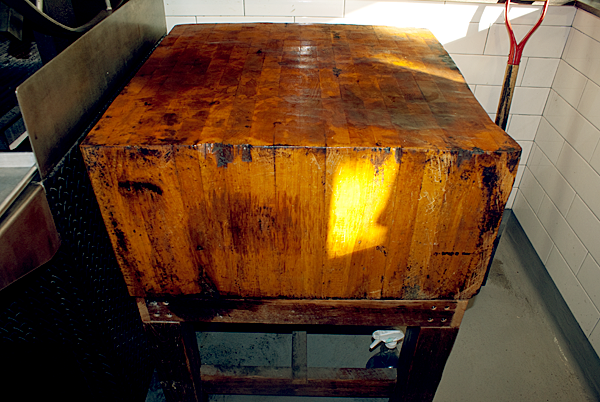 Have a look behind the scenes: this antique butcher's block from Old House Depot sits right next to the grill at Iron Horse.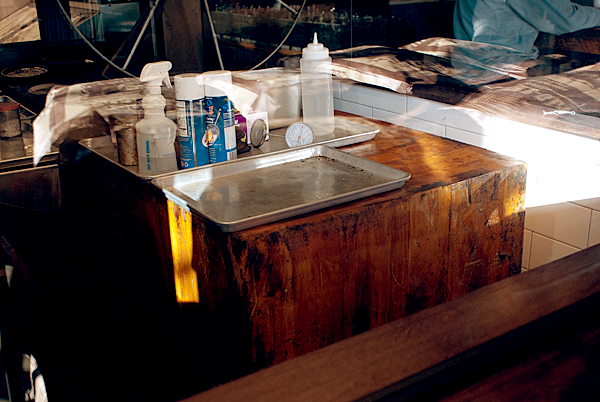 They're getting use out of it, too! When you enter the restaurant, look across from the staircase. There's a windowed area that lets you see the grill at work — and you'll catch a glimpse of this beautiful piece!
We at Old House Depot are thrilled to see our pieces used in commercial interiors and restaurant designs. Iron Horse Grill has plans for even more antique pieces from Old House to use in their interior design — keep an eye out for more posts down the road!
Happy Grand Opening, Iron Horse Grill! We wish you the best of success.
Boat Building Progress: Building the Backbone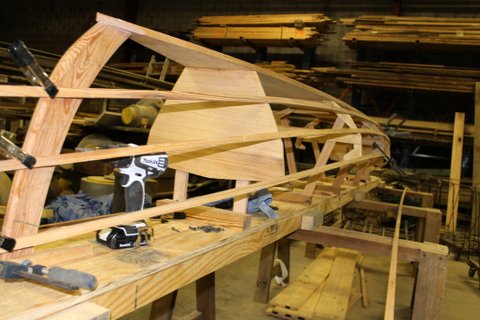 We'll be posting semi-regular updates from A. Henry Archino about the process of building a boat at Old House Depot. Read more about the boat-building group that meets here one evening a week.
With all the structural pieces complete, we are ready to assemble our boat's backbone! The backbone of a boat is exactly what it sounds like: several structural elements, usually made from a hard wood, that help define the boat's shape and provide strength. We selected Old House Depot's antique heart pine for all of our backbone pieces. Heart Pine has a long tradition in boat building in the South and was shipped worldwide during the golden age of ocean sailing vessels. Old House Depot's old growth wood is perfect for boatbuilding since it is lightweight and rot-resistant, and the incredibly tight grain provides unparalleled strength not found in today's woods. Plus, it's just plain good-looking!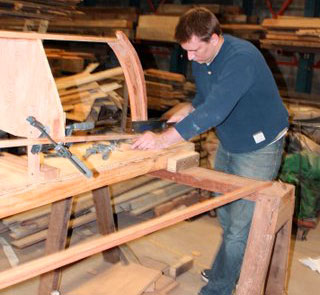 We assembled all the structural pieces (the stems, bottom, frames and bulkheads) on our specially made building table called a strong-back. The strong-back provides a level, stable platform on which to build. Using tools such as squares, levels and plumb bobs, we were able to place each piece in its exact location. We then attached all the pieces together, taking extra care to make sure all joints are exact and watertight. With the backbone assembled and securely attached to the strong-back, we finally start to see our boat take shape!
In the upcoming weeks we will be adding the "skin" to this skeletal structure by attaching curved cypress planking.
Boat Building Progress: Building with Curves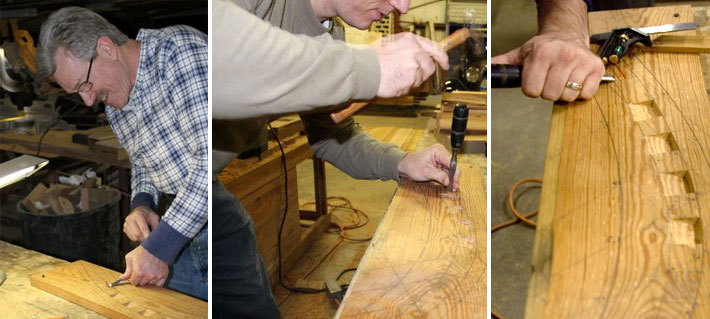 We'll be posting semi-regular updates from A. Henry Archino about the process of building a boat at Old House Depot. Read more about the boat-building group that meets here one evening a week.
​One way that boat building differs from conventional carpentry is that instead of working with right angles, you are dealing with curves. A boat's shape is all curves, many complex, and often intersecting. This is especially true at the front of a boat, where the curving planks join to a curved stem. A builder must chisel a precise groove in the stem (called a rabbet) that allows the planks to join at just the right angle. However, the plank's angle changes through the stem, and the stem itself is constantly curving. And on top of all that, the connection between these two must be water tight!
As daunting as all this seems, one of the great joys of boat building is that there are always simple, elegant solutions to complex issues. Sometimes we have to improvise, solving construction problems by approaching them in different ways. Other times, we rely on the collective knowledge of boat-building communities, drawing from thousands of years of experience that have been passed down through the generations. Either way, boat building requires us to look at things differently, which I find to be applicable both in and outside the shop.
Working as a team, we were able to complete the stem rabbet. And with the stem completed, we are ready to assemble it with the other structural elements of our boat, such as the bottom and frames. Our boat is about to take shape!
Boat Building Progress: Making the Patterns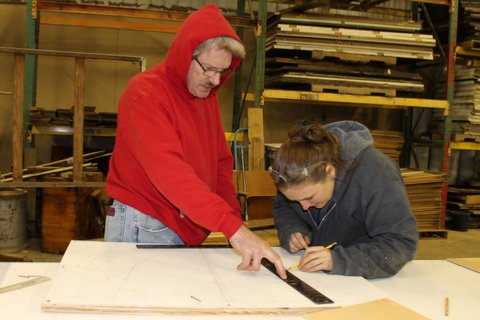 We'll be posting semi-regular updates about the process of building a boat at Old House Depot. Read more about the boat-building group that meets here one evening a week.
With the lofting complete, we are able to start building the boat! The first step is to create patterns for each piece of the boat. This is done by directly transferring all the lines and shapes created on the lofting boards to thin pieces of plywood. Because we spent so much time on the lofting process, making sure every angle and curve of the boat was correct, we take extra care to make sure the patterns are correct.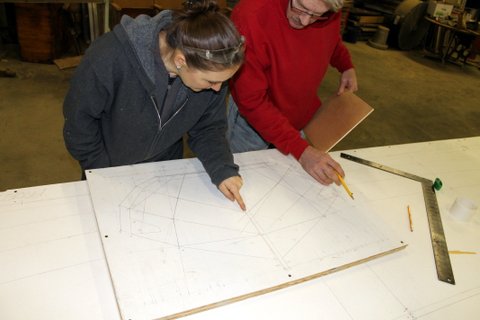 Once we have the patterns exactly right, we trace them onto our wood stock. Having a pattern is handy, because we can hold it up to prospect pieces of wood for our boat, line it up to see if it is a good fit, and to select the best looking grain. Once we found the perfect piece, we trace the pattern and start to shape the wood!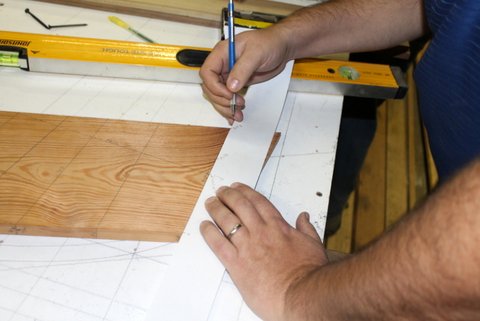 Happy Valentine's Day from Old House Depot
​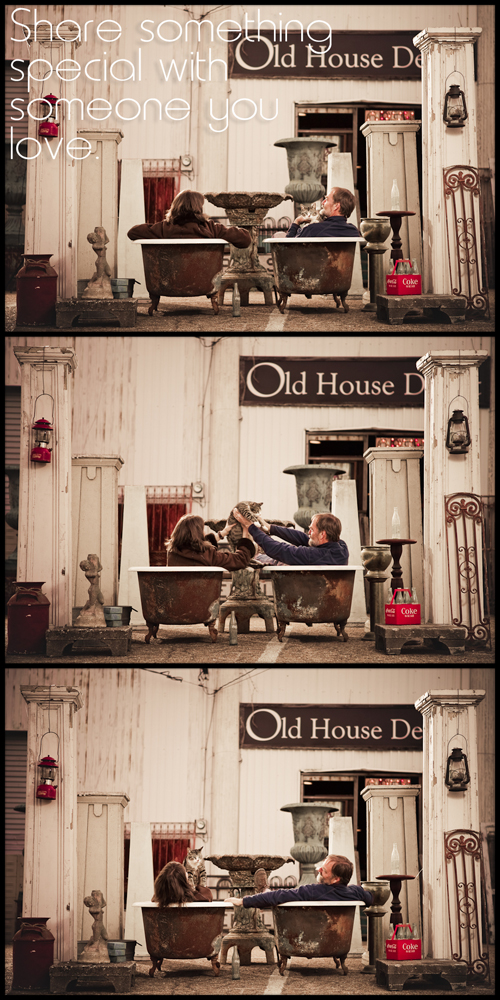 Meet The Boat Builders of Jackson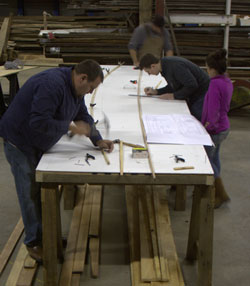 Recently, it was raining so hard in the South that people started joking about building an ark. Little did they know, a group of Jacksonians is already doing the next best thing: building a 15-foot canoe.
Leading the group is A. Henry Archino, the only member who has experience in traditional boat building. Henry began working at Old House Depot after he moved from New York to Jackson in the fall of 2011, when his wife began teaching at Millsaps College. In New York, Henry had worked with at-risk high school students at a nonprofit youth development organization called Rocking the Boat.
According to the organization's website, "Students work together to build wooden boats, learn to row and sail, and restore local urban waterways, revitalizing their community while creating better lives for themselves." Henry spent six years with the Rocking the Boat, serving in a variety of roles. He finished his last two years at the organization as the Boat Building Director.
"My experiences at Rocking the Boat taught me that boat building is much more than just the technical skills involved," says Henry. "It pushes you to be creative, to solve problems, and to rely on your fellow group members. I have used these lessons learned though boat building in all aspects of my life."
Last fall, a couple of Henry's friends in Jackson expressed interest in learning to build a boat and began meeting at Old House Depot one evening per week. Participation soon grew to around eight people, through word of mouth. Since November, a shared goal has come into focus: To build a fiddlehead canoe together.
"I think everyone is here for a different reason," says Henry. "It's a spectrum between the social element and the skill development. Some people come to hang out."
The group began by selecting an original canoe design by Henry Bryan, a longtime Canadian boat builder, and chipping in to buy the plans. "Bryan's fiddlehead design was the first boat that I saw built," says Henry. "So much of this boat can be built with reclaimed wood, whereas some designs require mostly new wood." Henry gestures around him at the stacks of reclaimed wood in the Old House Depot warehouse. "We're building the boat completely with the materials we have here."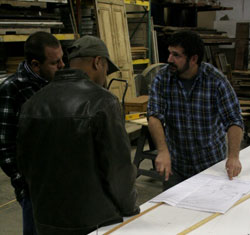 Since November, the boat building group has been immersed in a process called "lofting," which entails drawing out the boat design at full scale from three different points of view: the top, the front, and the sides. The group members have meticulously measured and plotted points on a grid from each of these angles, then reconciled them to ensure the boat will have fair curves and smooth lines. Within the group, there's a range of expertise, from beginner to experienced carpenter. Two members are city planners and engineers, who have frequently shared their knowledge during the mathematically detailed lofting process.
Just this week, the group moved from the design phase to the boat building phase. The team will starting by building the boat upside down, assembling the stems, frames and the bottom. Then, the body of the boat will be created by overlapping bent planks of cypress, a lightweight and flexible wood. In order to bend the wood, they will use a process called steam-bending. This involves wrapping the planks in towels, pouring boiling water over them, and covering them in a tarp to keep the heat in. They will repeat this process every 15 minutes for an hour until the planks become pliable.
The canoe is slated to be finished in April. The finished product will be 15 feet long and 30 inches wide, and convertible from a one-person to a two-person vessel. When finished, the boat will belong to group member Tait Karlson. He plans to explore the reservoir which is near to his home, and other Mississippi lakes and rivers.
If the rains begin again and you're wishing for an ark to brave the deluge, the boat building group at Old House Depot are the folks to see.
Highlights from Our Annual 4th of July Party
​Since 2007, we've hosted an annual 4th of July cookout at Old House Depot, which is one of our favorite events of the year. We set up old church pews outside the store, fill old bathtubs with chilled beer, and make a whole lot of food! Here are a few snapshots from parties past:
We can't wait until next summer!