Anthony's Corner: Custom Headboards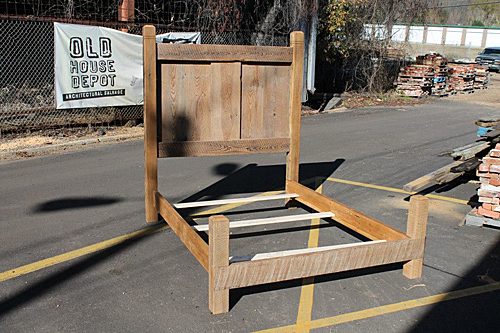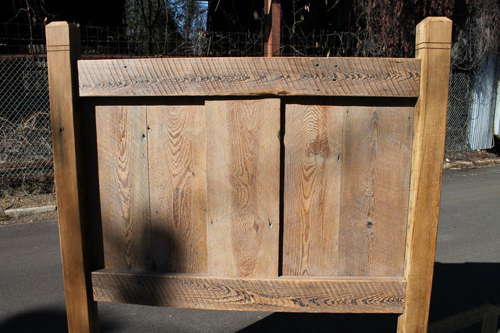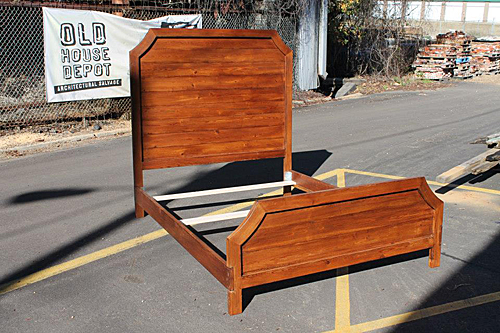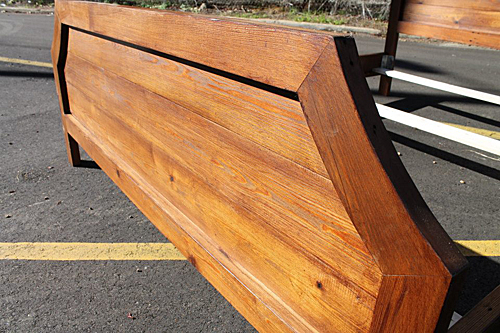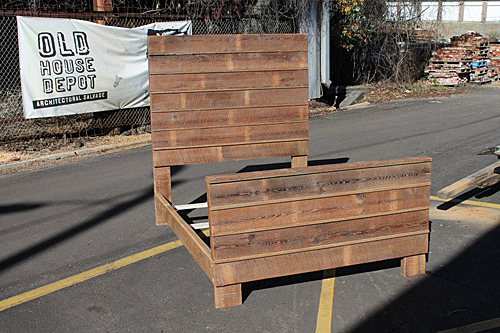 Stop by Old House Depot to ask Anthony about his custom furniture commissions — headboard, tables, cabinetry, entertainment centers, shelves and more, all made from repurposed vintage or salvaged materials.
Check out the Anthony's Corner on Facebook, where he gives you a detailed look at the custom build projects at Old House Depot and shares his finds!
Boat Building Process: Launching the Boat!
This is the conclusion of semi-regular updates from A. Henry Archino about the process of building a boat at Old House Depot. Read more about the boat-building group that met here one evening a week.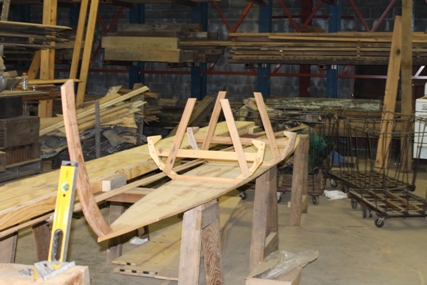 Starting last October with the plans, the tools and an endless supply of wood, we set out to build a boat using traditional woodworking know-how. Eight months later, we launched our labor of love, a 15-foot decked canoe, aptly named the Crusty Canoe.
The last month leading up to the launch saw a tremendous amount of effort and dedication from the boat building crew. We met nearly every night, sometimes until midnight, putting the final touches on the boat. This included building the deck, painting the hull, hand-fitting the floor boards and even making custom cherry backrests. Though the pace was intense, we found time most days to celebrate the night's work with coffee and pie at the nearby Waffle House. In fact, we were there so much, the waitresses knew our order, right down to when to switch our coffee from regular to decaf.
We choose LeFleur's Bluff park to launch and test our boat. The scenic cypress-strewn lakes provided the perfect continuity for our event, from tree to boat. About thirty people, friends and family of the boat builders, showed up to welcome the boat.
As in most boat dedication ceremonies, the christening is done by someone prominent, usually someone important to the community or someone beloved by the boat builders. In this case it was both. We asked Jim to dedicate the boat. He had allowed us to use his shop space, dull his tools, and pick through all his wood, and we wanted to thank him for this wonderful opportunity. Though the heart pine stem could have easily withstood the smash from a champagne bottle, we decided instead to drink the champagne and go with the old custom of pouring a glass of local water over the bow. Once Jim performed this rite, we dropped the bomb on him. This boat was his. We had built it for him.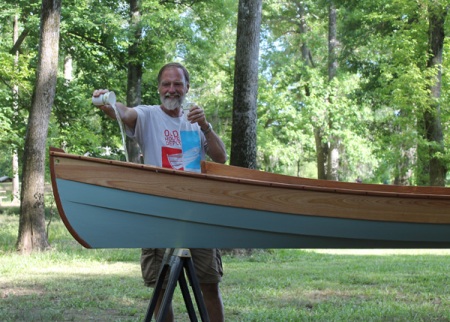 Though most people were in on this surprise, including Jim's wife Ann (who helped make the boat possible), you could see that Jim truly was surprised and moved by this development. He took the ceremonial first trip and really put the boat through its paces. As he tested the Crusty Canoe out on the lake, we all looked on with pride. Throughout the rest of the day, everyone had a chance to take the boat out for a spin. It was a perfect way to wrap up this project.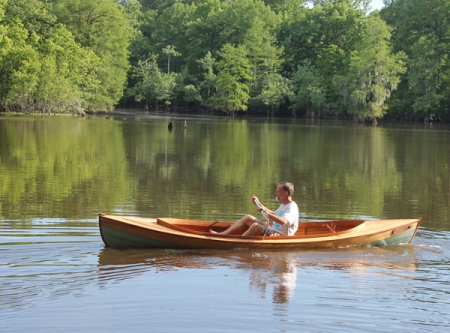 The launching of the boat coincided with my departure from Old House Depot, and Mississippi, too. I want to take this opportunity to thank everyone in the boat building group from helping to create such a wonderful memory. And I especially want to thank Jim, Ann and Anthony for welcoming me two years ago at OHD and making Jackson feel like home for me and my family.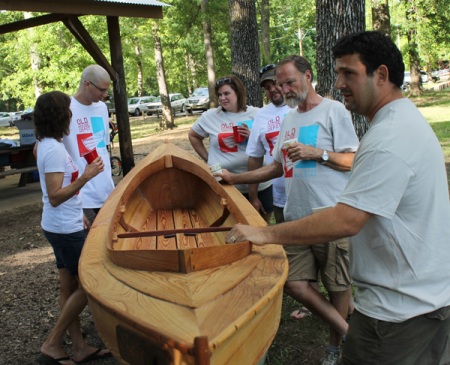 Boat Building Progress: ​Attaching the Planks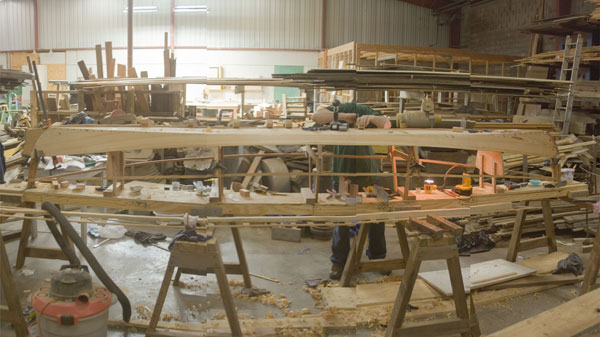 We are posting semi-regular updates from A. Henry Archino about the process of building a boat at Old House Depot. Read more about the boat-building group that meets here one evening a week.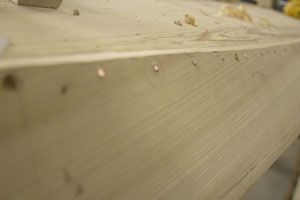 The planking process is really where the boat becomes a boat! The planks are essentially the "skin" of the boat. There are several traditional ways to plank. We chose to use the clinker, or lapstrake, method. In this style of boatbuilding, the planks, also known as strakes, literally overlap one another. It is very similar to the overlapping siding you will find on older homes, except that our laps must be a precise fit in order for the boat to be watertight! This can be a tricky process, requiring the careful shaping and planing of each plank in order to accommodate the next one. The planks are held together with handmade copper rivets, placed every two inches. That adds up to about 300 rivets in this boat!
Surprisingly, there is no glue or caulking between the planks. The lapstrake method relies on the property of wood to swell when wet, making the lap extremely water tight!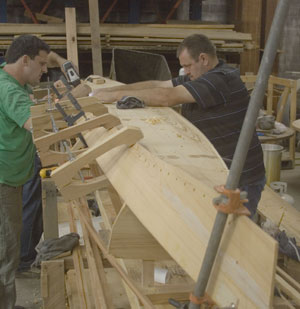 In order to provide the strength and durability of a modern metal or fiberglass boat, the selection of lumber for a wooden boat is crucial. The wood must be strong, lightweight and rot resistant. It also must be pliable, with the ability to bend and form to the boat's curves. Cypress is an excellent choice. The cypress must be relatively "green," meaning recently cut down. This is because newer wood contains more moisture than older wood, allowing the wood fibers to be more flexible and bend to the boat's form. Since most of the wood at Old House Depot is tremendously stable old growth stock, cut down over 100 years ago, we decided to go with newer stock from Cypress Depot. The folks there were extremely helpful and accommodating.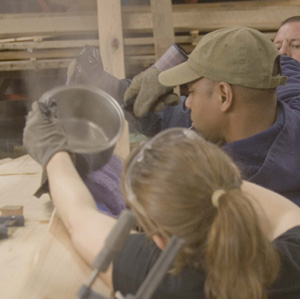 However, even the most pliable wood cannot make the extreme bends needed for our boat without a little help. To aid the wood, we employed the age-old boatbuilding tradition of steam bending. Wood, when steamed for the proper time, will bend and curve just like spaghetti! We chose a "low tech" method of steaming the wood, wrapping the planks in towels and adding boiling water. Once the towels were soaked, we wrapped the whole thing in plastic to keep the heat in. The plastic is then unwrapped and more boiling water is added every fifteen minutes until the proper "cooking" time is reached. Then the plastic and towels are rapidly removed, and the plank is quickly clamped to the boat's form. Then the plank is left to cool overnight, and from then on it will forever after remain in its new shape!
Once the planking is complete, our boat will finally start to look sea-worthy…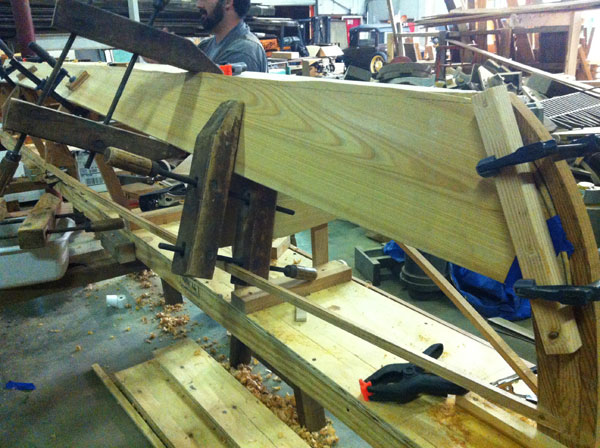 Meet Anthony Jones, Old House Depot Carpenter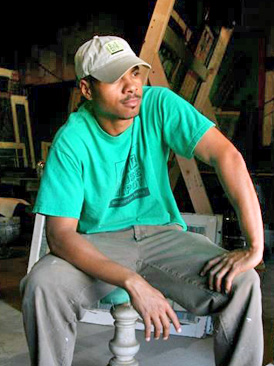 ​Imagine a piece of furniture that would be perfect for your home. A table, a headboard, an entertainment center. An ornate mirror or custom picture frame. No matter how intricate your design, or how unusual the shape, Anthony Jones can probably build it out of wood.
For the past three years, Anthony has worked at Old House Depot, where he is the carpenter for custom builds. In addition, he pitches in on the tasks that everyone at Old House does: helping with customers, community events, and general maintenance. He doesn't think the word "staff" describes the people who work at Old House.
"I see it as more of a family setting," he says.
A few years ago, Anthony was studying construction engineering at Hinds Community College when he realized that he wanted to specialize in carpentry.
"Carpentry was the most versatile," he said. "I learned a lot about woodworking from Earl Coats, an accomplished craftsman in The Raymond area."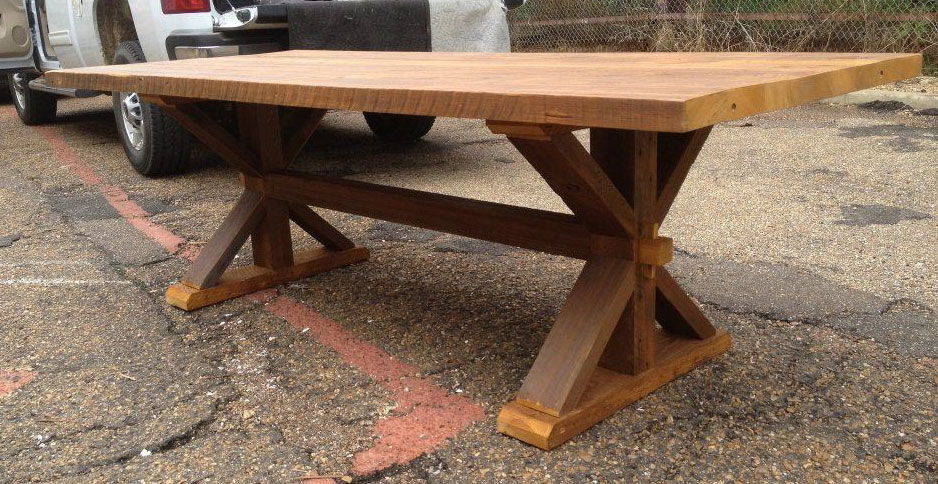 While studying construction engineering at the University of Southern Mississippi, Anthony improved his craft by working with a highly skilled finish carpenter. Together, they installed trim work and built custom cabinets on site for newly constructed houses.
Later, Anthony began renovating and restoring older houses and structures. He was introduced to Old House Depot while restoring a building from the early 1900's, owned by Hamp Shive, across the street from the historic Courthouse in Raymond. Hamp would arrive on site with a trailer load of antique building materials, and Anthony was curious to know where they were coming from. He discovered that they'd come from Old House Depot and decided to visit.
When he first set foot in the Old House Depot's Jackson warehouse, he felt so overwhelmed that he stayed only a little while.
"My brain was just exploding with ideas," he says. "There was so much to take in." Soon after, he got to know Old House owner Jim Kopernak and started working there.
The style of Anthony's custom builds varies with the customer's preference, from rustic to modern. He describes his own style as "simple and clean." He builds exclusively with reclaimed wood, mainly old heart pine from the Jackson area, sometimes with old growth cypress from the Delta.
"It's rare to find wood of this quality," he says. "It's from the late 1800s to early 1900s, and the wood has character. You can see the saw marks from mills that don't exist anymore, and hand-hewn marks."
Usually a custom build begins with a client's imagination, says Anthony. "They have an idea, and I help facilitate it," he says. Some clients incorporate architectural elements, like paneling or wooden inlays. The process for large items typically takes only 3-4 weeks, while smaller items can be turned around in a week or less.
When boat builder Henry Archino came on staff, Anthony began teaming up with him on projects. "It's fun to work with Anthony because his style of carpentry is completely different from mine, so we can exchange skills," says Henry.
"What surprised me is when you look at the cost of furniture at a name-brand store, ours doesn't cost more. It's a similar or better price to have your own things made," says Henry. "It's really a deal, and you can get exactly what you want. You can pick out the specific wood that we'll use, and you actually have a connection to your furniture."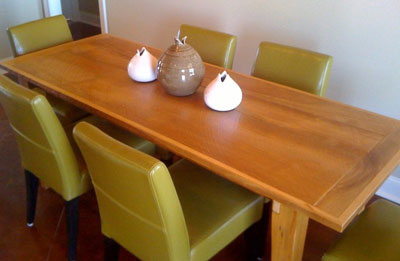 Anthony is grateful to have found his niche at Old House Depot.
"I love the idea of taking things that have outlived their usefulness and transforming them into something beautiful, functional, and relevant," says Anthony. "Most of all, I enjoy people, and the opportunity to bond friendships and share with others. I thank God for everyone that has taken time to help me, and for putting me in a place where I can help others. I think that is why Old House Depot has been the perfect place for me to develop as a person," he says.
Check out the Anthony's Corner on Facebook, where he gives you a detailed look at the custom build projects at Old House Depot and shares finds from "going picking."
Boat Building Progress: Making the Patterns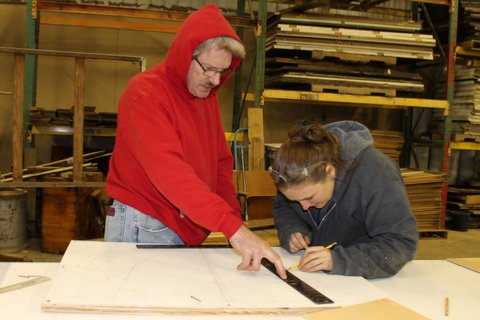 We'll be posting semi-regular updates about the process of building a boat at Old House Depot. Read more about the boat-building group that meets here one evening a week.
With the lofting complete, we are able to start building the boat! The first step is to create patterns for each piece of the boat. This is done by directly transferring all the lines and shapes created on the lofting boards to thin pieces of plywood. Because we spent so much time on the lofting process, making sure every angle and curve of the boat was correct, we take extra care to make sure the patterns are correct.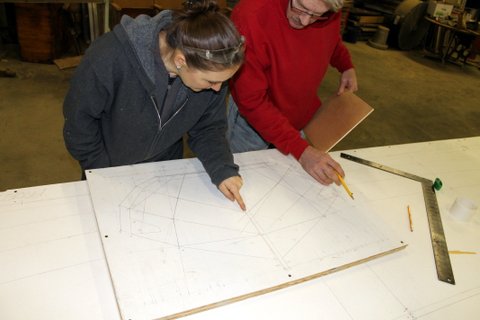 Once we have the patterns exactly right, we trace them onto our wood stock. Having a pattern is handy, because we can hold it up to prospect pieces of wood for our boat, line it up to see if it is a good fit, and to select the best looking grain. Once we found the perfect piece, we trace the pattern and start to shape the wood!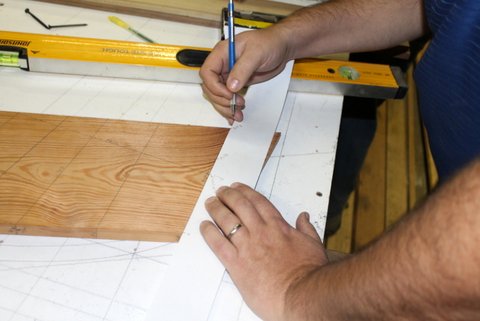 Custom order handcrafted wood items from Old House
We build most items from vintage, antique wood like cypress and old heart pine. We're also happy to incorporate materials like glass and metal, or add intricate inlays. Bring an image for local craftsmen Anthony Jones and Henry Archino to model, or simply describe what you envision. They will bring your design to life!
Large custom builds have a three-week turnaround.
Popular orders include:
Tables
Headboards
Bookshelves
Pedestals
Smaller Gifts
We can craft small custom items in less than a week, such as:
Picture frames of all sizes
Mirror frames
Cake stands and serving platters
Order a beautiful, one-of-a-kind gift that will become a beloved part of your home. Call us at 601-592-6200 or come by the store!