Shabby Chic, The Finest Oxymoron You'll Ever Meet
​"Shabby chic" is a perfect match for Old House Depot. What is shabby chic? It's an interior design style in which furnishings are chosen for their appearance of age and signs of elegant wear and tear. Shabby chic even distresses new furniture to fit the antiquated aesthetic. Roses are common motifs, as is an overall Rococo style. Think French countrysides and English cottages.
Despite mimicking antique decor, shabby chic sets itself apart by having a cozy appeal that is eclectic, unique and very livable. Just search for "shabby chic" on Pinterest and you'll have thousands of pins on your hands! Though the term was coined in the 1980s and the design was popular in the '90s, the style shows no signs of slowing down.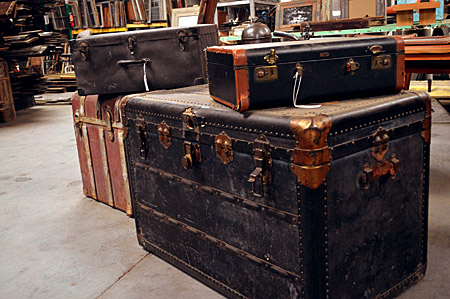 One common characteristic of shabby chic furniture is many layers and many colors of paint, where multiple colors can show through in worn places. It's an effect that some even mimic on new furniture with paint and sandpaper. At Old House Depot, however, you can find authentic pieces that naturally have this aesthetic.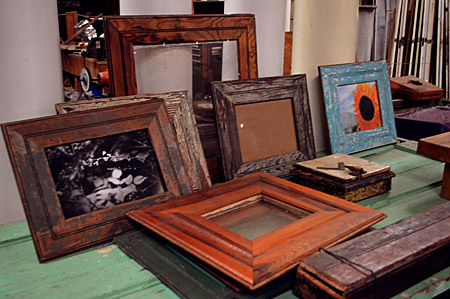 5 Creative Ways to Reuse Household Items
1. From an old suitcase to a chair or table:
Do you have a vintage suitcase lying around? Open it, screw legs on the bottom, and pad the inside and voilà! a chair. Or, you could leave it closed, put legs on the bottom, a glass sheet on the top, and make it into a bedside table.
2. From an unused drawer to a shelf:
Take drawers from an unused dresser or armoire and use them as shelves throughout your house. They can be positioned vertically or horizontally to give you more room to display valuables or just to add some spunk to a ro
3. From a headboard to a coat rack:
Do you have an old headboard that you'll never use again? Paint it a fun color, attach some hooks, put it on the wall, and you've got a new coat/backpack/purse rack for your house.
4. From a ladder into a bookshelf:
Take that old, rickety ladder and mount it on your wall to use as a bookshelf! This adds an interesting element to any room plus gives you more space to display your books!
5. From a bathtub into a couch:
You can turn an antique bathtub with feet into a couch by simply cutting out one side of the tub and having a cushion made for the bottom of the tub. To spice it up even more, paint the tub with vibrant colors.
If you want to put some of these creative ways to reuse household items to the test, but you don't have any of these items lying around, Old House Depot is the place to go! Check us out on Facebook and Pinterest or give us a call at 601.592.6200!
5 Ways to Use Reclaimed Wood for Home Decor
​
Reclaimed wood is a popular material among carpenters and do-it-yourself types. Because it tends to come from interesting sources such as barns, wine barrels, or even boxcars, it has a history and unique character. It's environmentally friendly to reuse existing lumber rather than buying it new, and old growth wood tends to be sturdier than new growth wood.
You can save money by constructing furniture from reclaimed wood yourself, or you can hire a carpenter to build it for you (Old House Depot takes custom orders). Here are 5 ideas for using reclaimed wood for home decor:
1. Tables
Add a conversation starter to your dining room by adding a table made of reclaimed wood. Your chairs can be more simple and inexpensive when you have a gorgeous, one-of-a-kind table. Reclaimed wood is also a great material for coffee tables, kitchen tables, and end tables.
2. Headboards
Imagine waking up to a beautiful wooden headboard every morning. The design potential is unlimited -- you can mix wood panels in different shades and configurations, or you can go for a traditional look by sanding and staining the wood.
3. Wood paneling
Reclaimed wood paneling adds a remarkable decorative touch to any room of your home. Frame the fireplace or panel the kitchen island. Add texture and warmth to your walls. Apartment Therapy features how-to posts on using distressed reclaimed wood panels for a quirky look, or smoother reclaimed wood panels for a rustic look.
4. Bookshelves
Book lovers will find reclaimed wood bookshelves as romantic as the tomes they support. Even better, if you custom build your bookshelves, you can design them to fit any space. Try floating shelves above your bed, or shelves in the living room that fill an entire wall.
5. Picture Frames
Add an extra warmth to photos of your loved ones, or your favorite pieces of art, by framing them in reclaimed wood. You can size your frames to fit pictures of any size, and the rustic look of the wood contrasts well with any colors.
Find reclaimed wood in various shapes, sizes, and hues at Old House Depot. If you love reclaimed wood but not DIY, call us at 601-592-6200 to ask about our custom builds!
New Uses for Old Things
​We love when our customers share photos of what they've done with items they've found in the store! Here are a couple of examples: