Boat Building Progress: Making the Patterns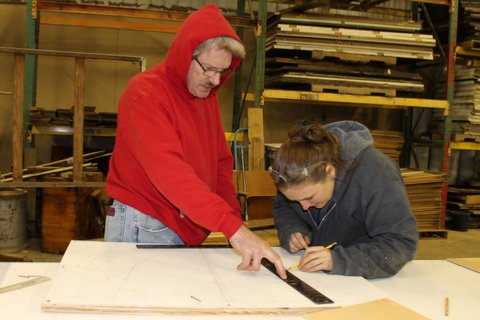 We'll be posting semi-regular updates about the process of building a boat at Old House Depot. Read more about the boat-building group that meets here one evening a week.
With the lofting complete, we are able to start building the boat! The first step is to create patterns for each piece of the boat. This is done by directly transferring all the lines and shapes created on the lofting boards to thin pieces of plywood. Because we spent so much time on the lofting process, making sure every angle and curve of the boat was correct, we take extra care to make sure the patterns are correct.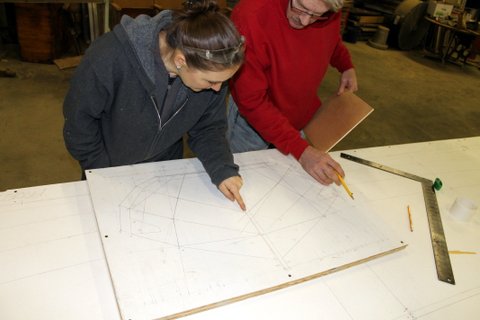 Once we have the patterns exactly right, we trace them onto our wood stock. Having a pattern is handy, because we can hold it up to prospect pieces of wood for our boat, line it up to see if it is a good fit, and to select the best looking grain. Once we found the perfect piece, we trace the pattern and start to shape the wood!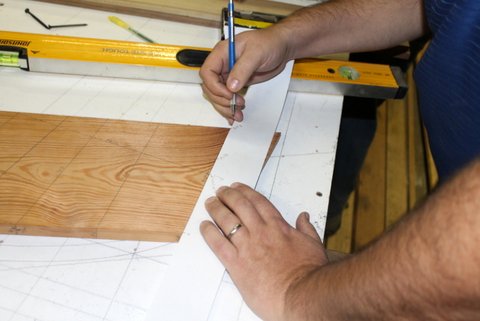 Find Old House Depot on Pinterest

In case you haven't discovered it yet,
Pinterest
is a free social network that allows users to create virtual pin boards of images that highlight their interests. From the Pinterest website:
Pinterest lets you organize and share all the beautiful things you find on the web. People use pinboards to plan their weddings, decorate their homes, and organize their favorite recipes.
Best of all, you can browse pinboards created by other people. Browsing pinboards is a fun way to discover new things and get inspiration from people who share your interests.
On our Pinterest page, you can find examples of the types of materials that we sell (such as reclaimed wood, antique doorknobs, interesting vintage pieces, old shutters/windows/doors, etc.), holiday gift ideas, and DIY project ideas.
Here's where you can find us on Pinterest: http://pinterest.com/oldhousedepot
See you there!
Custom order handcrafted wood items from Old House
We build most items from vintage, antique wood like cypress and old heart pine. We're also happy to incorporate materials like glass and metal, or add intricate inlays. Bring an image for local craftsmen Anthony Jones and Henry Archino to model, or simply describe what you envision. They will bring your design to life!
Large custom builds have a three-week turnaround.
Popular orders include:
Tables
Headboards
Bookshelves
Pedestals
Smaller Gifts
We can craft small custom items in less than a week, such as:
Picture frames of all sizes
Mirror frames
Cake stands and serving platters
Order a beautiful, one-of-a-kind gift that will become a beloved part of your home. Call us at 601-592-6200 or come by the store!