Boat Building Progress: ​Attaching the Planks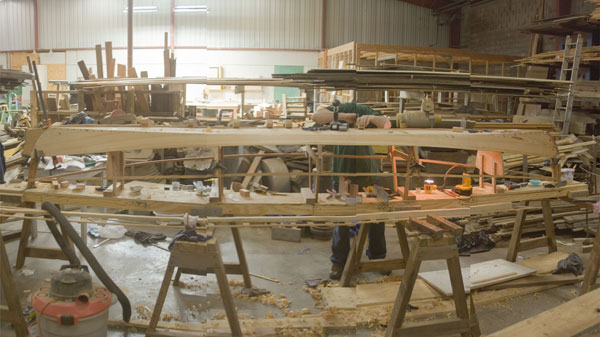 We are posting semi-regular updates from A. Henry Archino about the process of building a boat at Old House Depot. Read more about the boat-building group that meets here one evening a week.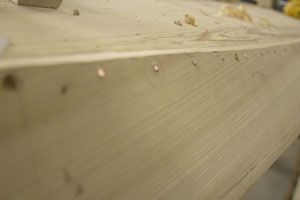 The planking process is really where the boat becomes a boat! The planks are essentially the "skin" of the boat. There are several traditional ways to plank. We chose to use the clinker, or lapstrake, method. In this style of boatbuilding, the planks, also known as strakes, literally overlap one another. It is very similar to the overlapping siding you will find on older homes, except that our laps must be a precise fit in order for the boat to be watertight! This can be a tricky process, requiring the careful shaping and planing of each plank in order to accommodate the next one. The planks are held together with handmade copper rivets, placed every two inches. That adds up to about 300 rivets in this boat!
Surprisingly, there is no glue or caulking between the planks. The lapstrake method relies on the property of wood to swell when wet, making the lap extremely water tight!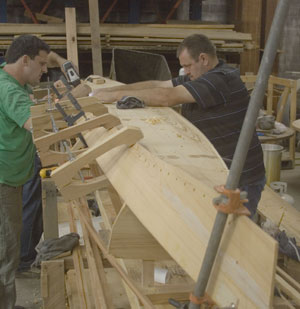 In order to provide the strength and durability of a modern metal or fiberglass boat, the selection of lumber for a wooden boat is crucial. The wood must be strong, lightweight and rot resistant. It also must be pliable, with the ability to bend and form to the boat's curves. Cypress is an excellent choice. The cypress must be relatively "green," meaning recently cut down. This is because newer wood contains more moisture than older wood, allowing the wood fibers to be more flexible and bend to the boat's form. Since most of the wood at Old House Depot is tremendously stable old growth stock, cut down over 100 years ago, we decided to go with newer stock from Cypress Depot. The folks there were extremely helpful and accommodating.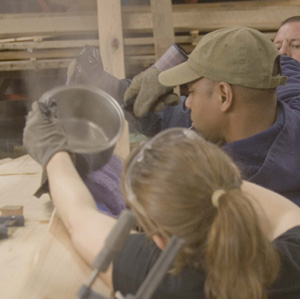 However, even the most pliable wood cannot make the extreme bends needed for our boat without a little help. To aid the wood, we employed the age-old boatbuilding tradition of steam bending. Wood, when steamed for the proper time, will bend and curve just like spaghetti! We chose a "low tech" method of steaming the wood, wrapping the planks in towels and adding boiling water. Once the towels were soaked, we wrapped the whole thing in plastic to keep the heat in. The plastic is then unwrapped and more boiling water is added every fifteen minutes until the proper "cooking" time is reached. Then the plastic and towels are rapidly removed, and the plank is quickly clamped to the boat's form. Then the plank is left to cool overnight, and from then on it will forever after remain in its new shape!
Once the planking is complete, our boat will finally start to look sea-worthy…