Meet Anthony Jones, Old House Depot Carpenter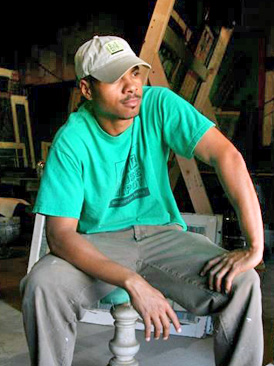 ​Imagine a piece of furniture that would be perfect for your home. A table, a headboard, an entertainment center. An ornate mirror or custom picture frame. No matter how intricate your design, or how unusual the shape, Anthony Jones can probably build it out of wood.
For the past three years, Anthony has worked at Old House Depot, where he is the carpenter for custom builds. In addition, he pitches in on the tasks that everyone at Old House does: helping with customers, community events, and general maintenance. He doesn't think the word "staff" describes the people who work at Old House.
"I see it as more of a family setting," he says.
A few years ago, Anthony was studying construction engineering at Hinds Community College when he realized that he wanted to specialize in carpentry.
"Carpentry was the most versatile," he said. "I learned a lot about woodworking from Earl Coats, an accomplished craftsman in The Raymond area."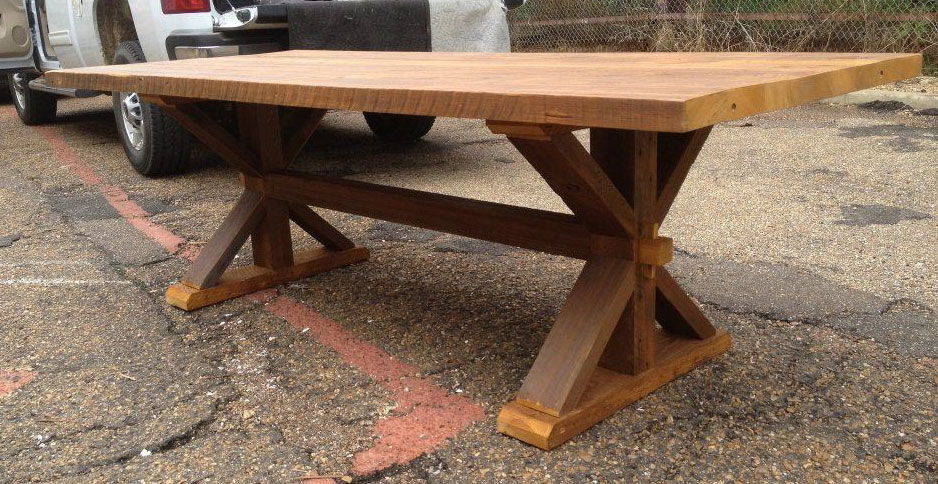 While studying construction engineering at the University of Southern Mississippi, Anthony improved his craft by working with a highly skilled finish carpenter. Together, they installed trim work and built custom cabinets on site for newly constructed houses.
Later, Anthony began renovating and restoring older houses and structures. He was introduced to Old House Depot while restoring a building from the early 1900's, owned by Hamp Shive, across the street from the historic Courthouse in Raymond. Hamp would arrive on site with a trailer load of antique building materials, and Anthony was curious to know where they were coming from. He discovered that they'd come from Old House Depot and decided to visit.
When he first set foot in the Old House Depot's Jackson warehouse, he felt so overwhelmed that he stayed only a little while.
"My brain was just exploding with ideas," he says. "There was so much to take in." Soon after, he got to know Old House owner Jim Kopernak and started working there.
The style of Anthony's custom builds varies with the customer's preference, from rustic to modern. He describes his own style as "simple and clean." He builds exclusively with reclaimed wood, mainly old heart pine from the Jackson area, sometimes with old growth cypress from the Delta.
"It's rare to find wood of this quality," he says. "It's from the late 1800s to early 1900s, and the wood has character. You can see the saw marks from mills that don't exist anymore, and hand-hewn marks."
Usually a custom build begins with a client's imagination, says Anthony. "They have an idea, and I help facilitate it," he says. Some clients incorporate architectural elements, like paneling or wooden inlays. The process for large items typically takes only 3-4 weeks, while smaller items can be turned around in a week or less.
When boat builder Henry Archino came on staff, Anthony began teaming up with him on projects. "It's fun to work with Anthony because his style of carpentry is completely different from mine, so we can exchange skills," says Henry.
"What surprised me is when you look at the cost of furniture at a name-brand store, ours doesn't cost more. It's a similar or better price to have your own things made," says Henry. "It's really a deal, and you can get exactly what you want. You can pick out the specific wood that we'll use, and you actually have a connection to your furniture."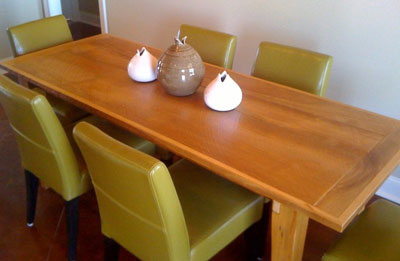 Anthony is grateful to have found his niche at Old House Depot.
"I love the idea of taking things that have outlived their usefulness and transforming them into something beautiful, functional, and relevant," says Anthony. "Most of all, I enjoy people, and the opportunity to bond friendships and share with others. I thank God for everyone that has taken time to help me, and for putting me in a place where I can help others. I think that is why Old House Depot has been the perfect place for me to develop as a person," he says.
Check out the Anthony's Corner on Facebook, where he gives you a detailed look at the custom build projects at Old House Depot and shares finds from "going picking."