Masters of Recycled Art: Anne Campbell
​If you stopped by Old House Depot during December, you have probably seen our beautiful Christmas tree — made from stacked Coca-Cola crates! As cool as that was, we thought the topper was even better (and it's even getting a new life as a festive Mardi Gras piece!).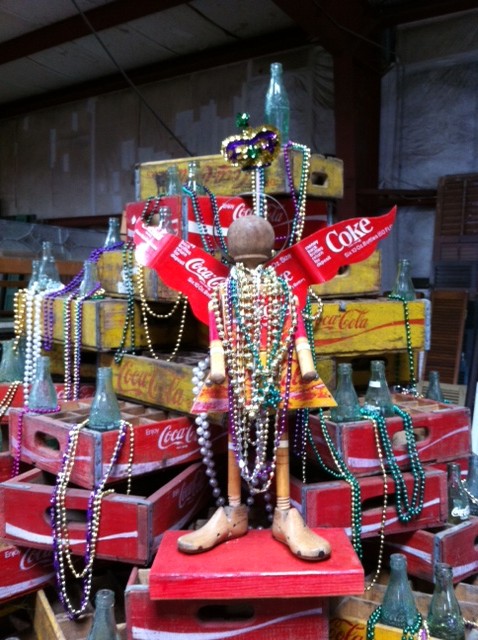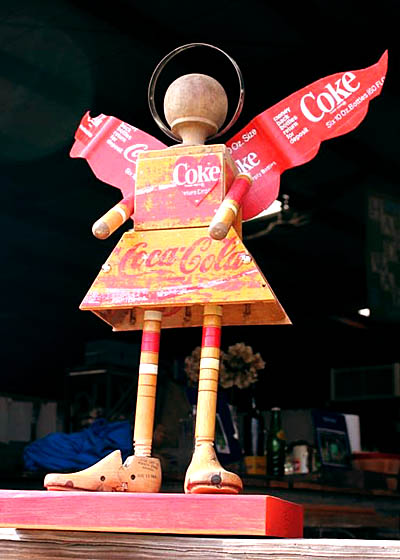 Our angel was custom-made from vintage soda crates by Anne Campbell of the Craftsman's Guild of Mississippi. If you don't know about Anne and her work yet, you're missing out.
Anne Campbell has been making art since 1998. Inspired by Alexander Calder, she started with wire sculptures before finding further inspiration in her father's folk art furniture (also made from found materials), which led to her passion for found object sculptures. A graduate of the University of Mississippi with a Bachelor's Degree in Fine Art, Anne currently resides in Brandon, Mississippi and works out of Bottletree Studios in Jackson.
She was first introduced to found object sculpture in a project in an undergraduate class at Ole Miss — and it was horrible (her words!). Years later, however, Anne found herself drawn to it. She sold antiques for a while and ended up buying a croquet set and found sudden inspiration.
"I can make a dog!"
She went on to make hundreds of croquet dogs, all with their own story. Even if the design is the same, each sculpture is unique and made from different objects.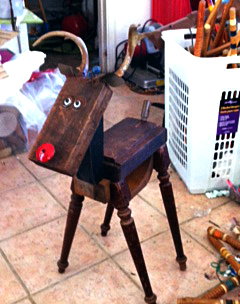 Anne says she hates to see things thrown away when they can be given new purpose. She believes that her materials "tell her what they want to be," and often buys things without knowing what she's going to make. She often finds inspiration in animals and in common, everyday objects. To Anne, the most moving part of taking "junk" to art is the evolution, which she called a "magical transformation" as the sculpture takes shape.
Anne has a great relationship with Old House Depot, coming not only to buy materials but to be inspired. One of our favorite things is to see what customers do with the things they buy, whether it's something functional for their home or business or a beautiful work of art like Anne's.
You can find Anne Campbell's work in-state at the Mississippi Craft Center (Ridgeland, MS and Biloxi, MS), Thou Art Gallery and Gifts (Pass Christian, MS) and the Attic Gallery (Vicksburg, MS). Outside of the Magnolia State, Anne has work in Anthm in Black Mountain, NC; Material Things Artisan Market in Woodstock, IL; Greeneyed Gator in New Orleans and Wild Oats and Billie Goats in Decatur, GA
Anne shows annually on the first week of December at the Chimneyville Festival along with her fellow members of the Craftsmen's Guild. She teaches at the Mississippi Craft Center's Craft Camp during the summer and is open to commissions.
You can find more of Anne's work on Bottletree Studios' Facebook page.